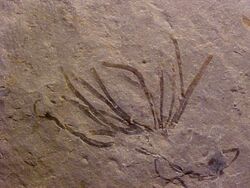 Yuknessia
is a type of green alga from the
Cambrian
Period.
Description
Edit
Yuknessia superficially resembled modern kelp in appearance. Its long fronds were attached to a central body covered in small, conical plates.[1]
Classification
Edit
Yuknessia is generally regarded to be a type of green alga of the division Chlorophyta. There is one known species, Y. simplex.[2]
Discovery
Edit
Yuknessia was described in 1919 by Charles Doolittle Walcott from the Burgess Shale in British Columbia, Canada.[3] Several other specimens have been found at the Burgess Shale,[4] and other specimens have been found in the Maotianshan and Wheeler Shales of China and Utah, respectively.
References
Edit