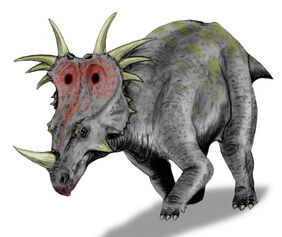 Welcome! I am the founder of the
Wiki Prehistorica
, and I've made 1,764 edits since November 16, 2010.
[1]
What can I do for you?
Edit
Yes, I can help you! If you have any questions or queries you can contact me through my talk page. This is always the best way to do so. I am not around here as often as I'd like to be, and commenting on a page that I've edited yesterday won't always work. I am however on at least one Wikia site with regularity, so if you give me a message on the talk page I will respond more promptly. Among other things:
I can be contacted for any important wiki-related queries (really, if it's not super-important you can take it to a rollback or admin, but I'll happily accept any questions or comments)
I can convert US Customary measurements to metric measurements, for American users. I have a secret formula that I use for this that nobody else knows.[citation needed]
I can get references from across literature and the Web, if I am told in detail what I'm looking for.
I can also create new templates for the inexperienced, if they aren't too complicated. Frankly I suck at templates, but there are a few existing ones I can build off of, and I have some other Wikia users to bug for help. Yay for having connections. :P
Who am I?
Edit
I'm a busy guy, for starters. Just take a look at the following:
Paleontology
Edit
Prehistory---I like it. You wouldn't be reading this page otherwise. I'm already aiming to study paleontology professionally. Thankfully, I live just a few miles away from one of the only universities in the USA that offers paleontology classes to any serious extent.[2]
To fuel this passion, I've had experience in fossil hunting through a wide variety of sites, such as:
The Navesink and Mount Laurel Formations (Late Cretaceous) at Big Brook, New Jersey
The Llewellyn Formation (Carboniferous) at Saint Clair, Pennsylvania
The Stockton/Lockatong Formations (Late Triassic) in my own backyard
I've even had brief experience with the Roubidoux Formation (Cambrian/Ordovician) in Howell County, Missouri.
I also have a whopping collection of fossils, both hand-collected and bought...highlights include:
A German branchiosaur (ancient amphibian) from the Permian
A fossil snake (which could be real or just a replica - not sure yet)
A Miocene whale vertebra
Slabs of petrified wood
Amber from Colombia and Sayerville, New Jersey
Oreodont jaws from South Dakota
A really big box of hand-collected oysters and fossil ferns (namely the 60 cm long slab)
Dinosaur eggshells from Argentina and Mongolia
Assorted microfossils from Aurora, North Carolina
An impressive selection of ammonites and trilobites
A cidarid urchin spine from Big Brook, which happens to be a rare find for the area.
And there's only one place in the world, as far as I know, where you can recieve a replica of a Dryptosaurus claw---and I've been there.[3]
Note that this is not counting the collection of minerals (azurite, emeralds, serpentine, amethyst, enough quartz to fill a house [because it does] and the crown trophy that is a large cut ruby) and the golden vases/wooden coffins/human skeleton(s) that get put in our lawn each spring and are promptly re-excavated by yours truly and some friends.
As for paleontologists...I've met both Scott Sampson and Ted Daeschler, and attended a few of their lectures. Those are the only biggies in the profession of paleontology if you're not a Jersey fossiler. In the paleoart/paleontography world, I've had the pleasure of talking to Bob Walters.
I am an avid reader of Prehistoric Times Magazine and have had my artwork published in it various times. I hope to one day write an article for them.
Herpetology
Edit
As if all that wasn't enough, I love reptiles and amphibians---specifically, the art of maintaining them in captivity (herpetoculture). I've owned several species, the current examples being green anoles, African clawed frogs, bearded dragons, painted turtles, and Pacman frogs. I look forward to acquiring and breeding a pair of Gonocephalus chameleontinus and creating a turtle pond.
Local 4-H has a herpetology club, so naturally I am in it. This hogs up a lot of my spare time but it will eventually get me a scholarship to pursue paleontological endeavours, so who cares about time :P
Oh, and if invertebrates count, I am highly interested in the stomatopods - the mantis shrimp. BLAMMO!
Miscellany
Edit
If it's science, I know it. Just call me a geek. (I take that label as a compliment.)
Steampunk for the win!
I confess. I know more about television across the pond than I do in America. That's by no means a bad thing though---as you should hopefully know such prehistoric gems of the small screen like Walking With Dinosaurs were created there. I also like Primeval, which is good, although not exactly renowned for its accuracy. And a smattering of the usual fare; Clarkson, Ramsay, and the good ship TARDIS. But you don't want to know about that. If you do, go here.
Just to give you a scale of how involved I am with Wikia, both currently, and in the past, I'll give you some statistics. I have administrator privileges on over a dozen wikis, bureaucrat rights on about a half-dozen, founder status on six or seven, and have edited with some regularity on well over fifty. These numbers are all approximate because it's absolutely impossible to keep track. Here are some big wikis I am currently involved with:
Jurassic Park Wiki - admin status, unofficial wiki design coordinator person. I think.
Jurassic Park Fanon Wiki - admin status, try to keep things tidy around there.
Reptipedia - admin status. Not nearly as active there as I should be. 
Prehistoric Park Wiki - as directly above.
Speculative Evolution Wiki - I cleaned up some vandalism there once and one of the bureaucrats gave me admin status for doing it, which doesn't exactly make sense to me but I'm not complaining.
Most of the others are inactive and/or I've forgotten about them. But if you are a member of one of these wikis and want me back, don't hesitate to contact me.
Other Internet Things
Edit
I'm also a member of Wikipedia, Jurassic Park Legacy Forums, The Fossil Forum, some Zoo Tycoon forums I can't recall the names of, the SCP Foundation, the comments inhabitants of Doctor Who TV, FanFiction.net and FictionPress.net, and probably other places I've forgotten about. In fact I seem to have a distinct or at least noticeable presence on the Internet if you look in the right places, which is both mildly satisfying and extremely worrying. Anyway, you've heard me rant enough now, I've just been typing and typing and I need to get back to work on articles about primitive sauropodomorphs.
Milestones
Edit
Nice Pages
Edit
Pelagiarctos. There's a hint of smugness about this one. I originally chose the article rather at random: I was looking for Cenozoic mammals, found this, said "oh cool killer walrus" and put it onto my to-do-list. Suddenly, it happens that the genus is being reevaluated (accompanied by near live updates on The Coastal Paleontologist blog - seriously when i wrote the article it had been updated the day before), and has gotten coverage in various scientific communities and mainstream news outlets. Even almost a year later, our article on Pelagiarctos has five times the references of that of Wikipedia's. :D
Wesserpeton, on the other hand, has six times the references of Wikipedia's article, is only about 200 bytes shorter than the Wikipedia article, and is about a cute but feisty salamander-thing to boot. I can dig that.
Deinosuchus - probably gonna be a featured article whenever I get around to re-implementing that system
Article Milestones
Edit
So what's my current project?
Edit
Well:
I'm beefing up newly added articles with information and references. 
I'm getting the wiki ready for promotion on Wikia's main page. This is just the boost in popularity that we need, and perhaps more editors will finally arrive once more.
Also, if you really want to, you can see my to-do list.
Useful Links
Edit
Userboxes
Edit
References
Edit