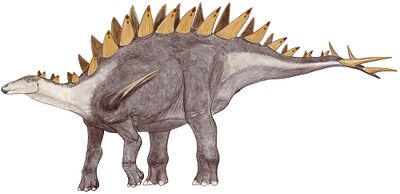 Tuojiangosaurus
is a stegosaurid dinosaur from the Late
Jurassic
Period of China.
Description
Edit
Tuojiangosaurus was about 7 meters long from head to tail, and weighed approximately 4 tonnes.[1] Like all stegosaurs, it had two rows of plates running down its back. Unlike its better-known relative Stegosaurus, however, its plates were thin and triangular.[2]
Discovery
Edit
Tuojiangosaurus was described in 1977 by Dong Zhiming from the Upper Shaximiao Formation of China. There is one known species, T. multispinus.[3]
Paleobiology
Edit
Based on its vertebrae, it was unlikely that Tuojiangosaurus could rear up on its hind legs, like Stegosaurus could. Because of this, it probably fed on low-growing ground vegetation.[4]
References
Edit
Ad blocker interference detected!
Wikia is a free-to-use site that makes money from advertising. We have a modified experience for viewers using ad blockers

Wikia is not accessible if you've made further modifications. Remove the custom ad blocker rule(s) and the page will load as expected.