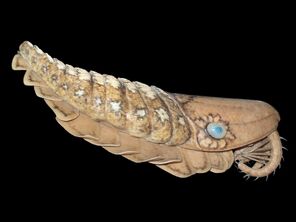 Peytoia
was a genus of anomalocaridid that lived in the
Cambrian
Period.
Description
Edit
Peytoia had two bristly mouth appendages that were used to filter food on the sea floor. Unlike other anomalocaridids, it did not have a fan tail.[1]
Classification
Edit
There is one species of Peytoia, P. nathorsti.
The history of the genus Peytoia is entangled with that of Anomalocaris and several other synonymous genera.[2] It was originally described in 1911 by Charles Walcott from the Burgess Shale. The mouth of Peytoia was discovered first, and was misidentified as being part of the jellyfish. When the body was later found it was classified as a type of sponge and placed in the genus Laggania. Eventually, the two elements were found next to each other, but Simon Conway Morris misinterpreted it as two organisms being buried and preserved together. It was not until many years later when they were recognized as being part of the same animal.[3] As the rules of zoological nomenclature state that the oldest name takes priority, the name Laggania was discarded and Peytoia was used to describe the whole animal.[4]
In total, 108 specimens of Peytoia have been recovered from the Burgess Shale.[5]
References
Edit
Ad blocker interference detected!
Wikia is a free-to-use site that makes money from advertising. We have a modified experience for viewers using ad blockers

Wikia is not accessible if you've made further modifications. Remove the custom ad blocker rule(s) and the page will load as expected.