Megapiranha

Sillhouette of Megapiranha in black compared to today's piranha
Vital statistics
Scientific Name
Megapiranha paranensis
Length
1 metre
Height
Weight
Diet
Omnivorous
Lived
8-10 million years ago
Range
Argentina
Megapiranha
is a genus of piranha from the Miocene of Argentina.
Description
Edit
Megapiranha has a body proportionally similar to that of modern piranhas, it measures a meter in length, which is much larger than today's species.[1] Only some premaxillae and teeth of the genus have been found.
Discovery
Edit
Megapiranha was first discovered in the early 1900s, by Alberto Luis Cione and colleagues.[2]
Paleobiology
Edit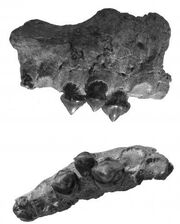 The teeth of Megapiranha are similar to both modern piranhas (which are carnivorous) and pacu (which are herbivorous). It is possible, therefore, that Megapiranha may be omnivorous.[3]
References
Edit
↑ Luis Cione et al. Megapiranha paranensis, a new genus and species of Serrasalmidae (Characiformes, Teleostei) from the Upper Miocene of Argentina. Journal of Vertebrate Paleontology, 2009; 29 (2): 350