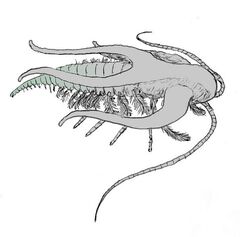 Marrella
was a primitive arthropod from the
Middle Cambrian
Burgess Shale
. It is the most common fossil found in the formation.
[1]
Description
Edit
Marrella was a small creature, measuring 2 centimeters long at most. Its most prominent feature was its head shield, which had two pairs of rear-facing spikes. Marrella walked on the sea floor using around 50 individual legs, with each leg supporting a feathery gill-like structure. In life, the hard parts of Marrella would have been iridescent.[2]
Classification
Edit
At the current time, Marrella is best classified as a stem group arthropod, and not a type of trilobite as its morphology would suggest.
Discovery
Edit
Marrella was the first type of fossil collected by Charles Walcott from the Burgess Shale in British Columbia.[3] He described it in 1912, identifying it as a possible trilobite. In 1971, Harry Whittington published a redescription of the animal and concluded that Marrella was not actually a trilobite, nor was it part of any extant arthropod group.[4] It was subsequently labeled as a stem group arthropod.
Since its discovery, over 25,000 specimens of Marrella have been collected, making up a significant portion of the specimens found in the Greater Phyllopod bed.[5]
Paleobiology
Edit
Marrella is thought to have been a deep-sea scavenger, living on the ocean floor and feeding on small particles of organic material. One particular specimen shows that the animal molted its shell, rather like living marine invertebrates.[6]
References
Edit