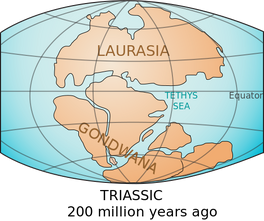 Gondwana
(originally
Gondwanaland
) was one of two supercontinents that formed
Pangaea
during the Paleozoic and Mesozoic periods. It contained the modern continents of Africa, South America, Australia, and Antarctica, as well as Madagascar, India, and parts of Arabia. After the breakup of Pangaea it was one of the world's main continents, along with
Laurasia
.
[1]
Formation
Edit
Gondwana was originally composed of many other continents and supercontinents that existed during the Precambrian and Early Paleozoic.[2]
After the supercontinent Pangaea broke up during the Mesozoic period, parts of the original Gondwana were still attached to the continent now called Laurasia. This includes Florida and parts of Georgia.[3]
Gondwana fragmented throughout the Jurassic period and into the Cretaceous. A notable example is Madagascar, which broke off from the rest of the supercontinent and later evolved a fauna unique to the island.[4]
References
Edit