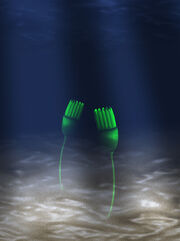 Dinomischus
is an enigmatic animal from the
Cambrian
period.
Description
Edit
Dinomischus loosely resembled a flower, growing approximately 20 millimeters in height.[1] A long, thin stalk attached its cup-shaped body to the sea floor. The "petals" around the mouth likely gathered food particles.[2]
Classification
Edit
The classification of Dinomischus is still uncertain, although similar organisms include the modern entoprocts.[3]
The first specimen of Dinomischus was discovered by Charles Doolittle Walcott in the Burgess Shale, but it was not until 1977 when it was fully described by Simon Conway Morris.[4] Further specimens have since been discovered in Chengjiang and Guizhou, China.[5]
References
Edit
Ad blocker interference detected!
Wikia is a free-to-use site that makes money from advertising. We have a modified experience for viewers using ad blockers

Wikia is not accessible if you've made further modifications. Remove the custom ad blocker rule(s) and the page will load as expected.