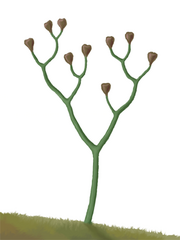 Cooksonia
is a primitive land plant that lived during the Silurian and Devonian periods.
Description
Edit
Only the sporophyte phase of Cooksonia is known, but at this stage the plant had a simple, branching stalk only a couple of centimeters in height. It had no roots, but it is possible that it grew from a rhizome instead.[1] A spherical sporangium topped each branch. Some specimens of Cooksonia show that they possessed stomata and tracheids.[2]
Classification
Edit
Cooksonia is believed to be a transitional form of plant between primitive bryophytes and the more advanced vascular plants.[3]
There are six recognized species of Cooksonia, three of which are valid (the type C. pertoni, C. paranensis, and C. banksii) and three that remain doubtful (C. hemisphaerica, C. cambrensis, and C. bohemica).[4]
References
Edit
Ad blocker interference detected!
Wikia is a free-to-use site that makes money from advertising. We have a modified experience for viewers using ad blockers

Wikia is not accessible if you've made further modifications. Remove the custom ad blocker rule(s) and the page will load as expected.